| | |
| --- | --- |
| | Custom Framing |




Framers, Inc.
123 Main Street
Anytown, NY 20317
USA
(212) 555-4321
(212) 555-1234 fax

Send Us
E-mail

© Copyright 2011
Framers, Inc.
powered by Website2Go.com
All Rights Reserved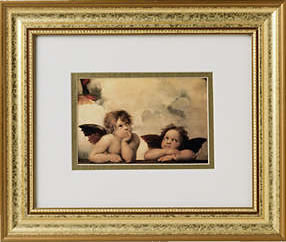 The best way to preserve your personal and treasured works of art is custom, conservation framing.

Framers, Inc. has the skills and materials necessary to preserve them as close to original as possible.

If your framer doesn't do custom, conservation framing, find another frame shop fast. Here are some things to look for when evaluating framers:

Look at the bevel edges of cut mat board. If they are a creamy color and not white, then that framer doesn't practice conservation techniques.

Is the design done well and is it appealing?

Check the mitered corners of the moulding. Are they tight or are they open and look sloppy?

Do they use a dust cover on the backs?

How about foreign material inside the glass?

Are the cuts on the mat straight, sharp and crisp?

Any leftover pieces of matting in the corners?

Is the art hung straight inside the frame?

Molding
How much does the piece weigh? This will determine width and type of mouldings. Does the moulding need to match another piece or does it need to match your favorite chair? We can do the best of all worlds for your personal framing item.

There are many styles of mouldings to choose from. They range from imported to domestic woods, composite woods, metal and plastic. They vary in widths from 1/4 of an inch to six inches wide. Framers, Inc. has access to approximately 1500 styles and types.

Glazing
There are three main types of glazing: Regular, Anti-reflective and UV filtering. In addition to these, there are "invisible" and "museum." UV filtering is used to protect your treasured pieces from damage caused by light exposure.